The Incredible Hulk
Oil pastels on paper · 22 Jun 08
Attention! You are viewing a resized version of this drawing. There is a larger version available, which is of better clarity. Click on the image below to view it.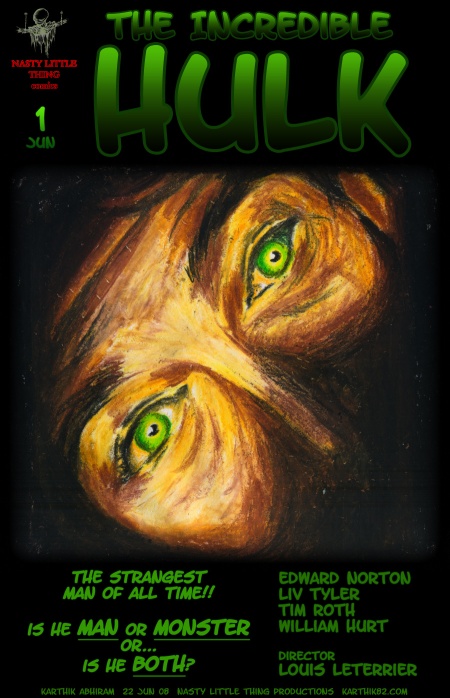 About this drawing
The Incredible Hulk (2008) is the second recent big-screen adaptation of the Marvel Comics character. I haven't seen the 2003 movie directed by Ang Lee, but I saw this current one on an IMAX screen. It is directed by Louis Leterrier and stars Edward Norton as Dr Bruce Banner, who as a result of a scientific experiment gone wrong, transforms into a giant green monster when provoked. The film does not waste much time in setup — it introduces the characters and then gets to the action. Banner is a fugitive and is hiding out in Brazil — when the US Army locates him, one of the soldiers they send after him, Emil Blonsky (Tim Roth) becomes a bit too interested in what makes Banner the Hulk. A very entertaining movie with a great music score too.
Of course, after watching the movie I was very inspired and did this drawing the next morning. It's a simple yet powerful image from the movie showing Banner transforming into the Hulk. The drawing was done with oil pastels, but after scanning it I turned it into a mockup comic book cover. The text below ("The strangest man of all time!! Is he man or monster or... is he both?") is taken from the original 1960s Incredible Hulk comic.
Comments for this Drawing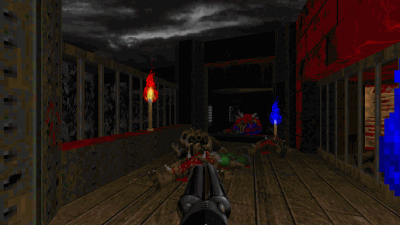 Dark Fate 2 is a singleplayer level for Doom II, replacing MAP01. It's a small-sized hellish level — and there's a walkthrough video as well.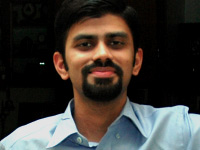 27-year old Taurean (birthday 15-May-82), Assistant Manager - HR at Tata Consultancy Services Ltd in Hyderabad, India. Previously, did Post Graduate Diploma in Management from T A Pai Management Institute (2003-05) and before that, Computer Science Engineering from Sree Nidhi Institute of Science and Technology (1999-2003).
Email: karthik82 -AT- gmail -DOT- com
orkut profile
Facebook profile
YouTube channel
deviantART page
Google Reader Shared Items
Disclaimer: The views expressed on this site are purely my own.
Warning: This site occasionally contains profanity.