Recently, I got to see the trailer for The Book of Eli, an upcoming science-fiction action movie starring Denzel Washington, Gary Oldman and Mila Kunis. The trailer was released at Comic-Con International, and looks quite nice. The movie will be released in 2010 and is directed by Allen and Albert Hughes. I was quite inspired by the trailer and so I did this drawing after watching it —
Nothing fancy, the drawing was done with ballpoint pen, a photo was taken and that was coloured digitally. The drawing was intended to be part of a larger piece, with the movies that I want to see in 2009-10 (similar to what I did last year). I also filmed footage while drawing this, so I put that together into a video and uploaded it to YouTube.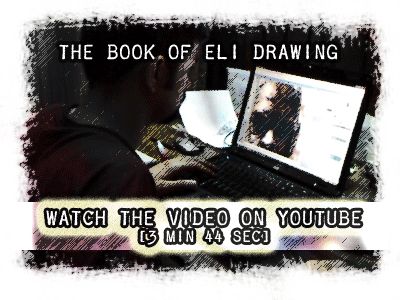 You can watch the video by clicking here or on the above image. I think the video came out pretty nicely. The music track I used in the video is the "Survivalism (Celebmix)" by Celebutante, from the open-source Nine Inch Nails Remix Album, The Limitless Potential.